Description Tube stainless round 50,8Х1,5 AISI 304 (polished 600 grit) Code: (9224)
Round stainless steel pipe 50.8 (50, 51)



- It has high strength, corrosion resistance, low wear resistance and ease of maintenance and operation - all this is AISI 304 round stainless steel pipe 50.8X1.5. Railings, handrails, fences made of polished (mirror) stainless pipe with a diameter of 50.8 mm and steel grade AISI 304. For the manufacture of fencing stairs and railings from stainless steel, a round stainless steel pipe with an outer diameter of 50 (50.8) mm is used. In our warehouse, which is located in Kiev, you can purchase the necessary stainless pipe. If you don't have the opportunity to pick up the goods yourself, our staff will help you deliver the goods to the desired locality of Ukraine or to the address in Kiev. Welded stainless pipe 50.8 with a mirror (polished) surface is indispensable in the manufacture of railings, handrails, fences. A large assortment and a constant stock of stainless pipes make Steinles Steel Ukraine a leader in this sector of the Ukrainian market. And the supply of stainless pipes to the Ukrainian market without intermediaries makes it possible to offer the buyer goods at the lowest prices.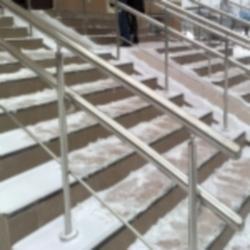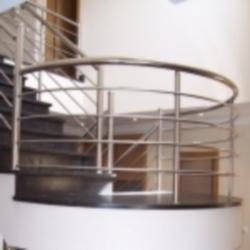 Reviews about Tube stainless round 50,8Х1,5 AISI 304 (polished 600 grit) Code: (9224)
Молодцы. все быстро,аккуратно и понятно. К вам нет никаких претензий.
Review
Details Tube stainless round 50,8Х1,5 AISI 304 (polished 600 grit) Code: (9224)
Manufacturer code: T/AISI304/50.8-1.5
Condition: new
Weight:
1.852 Kg.
in one meter
✅
:
price including VAT for 1 meter
Minimum order amount
/ in UAH /
:
1000
Minimum order
:
3 meters and a multiple of 3 (E.g. 3, 6, 9 m, etc.)
Terms of payment
/ prepayment percentage % /
:
100
Type of pipe
/ by manufacturing method /
:
welded
Type of weld
/ Tungsten Insert Gas /
:
TIG
Outer diameter ∅ mm.
/ in millimeters /
:
50,8
Wall thickness mm.
/ in millimeters /
:
1,5
The length of a pipe
/ in meters /
:
6
Surface
:
600 GRIT (mirror polished, glossy)
Cross-cutting 90° ―❘―❘―
/ (max 2) | 1 cut =
:
5 uan
Cutting method
/ Angle grinder /
:
abrasive cutting
Cutting precision
/ in millimeters + - /
:
5
Steel grade
/ American Iron and Steel Institute /
:
AISI 304
Standard
/ American Society for Testing and Materials /
:
ASTM A-554
Material: stainless steel
Сolor: chrome