ROUND AISI 201
Stainless steel pipe round AISI 201

 Always available in our warehouse in Kiev there is a pipe or mirror polished stainless, steel grade AISI 201 at the best prices and the most interesting conditions. Stainless steel pipes of AISI 201 are a group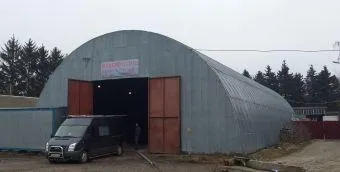 of economical and relatively inexpensive. They are every year more and more replaced by chromium-nickel austenitic stainless steel tubes, such as AISI 321 and AISI 304. The popularity of stainless steel pipe grade AISI 201 due to the high economic benefit and pretty high quality. The stainless steel tubes in AISI 201 contents expensive nickel is reduced, and the production of austenitic structure is achieved by entering the cheaper manganese. With the latest manufacturing techniques and a balanced chemical composition, stainless steel pipe made of austenitic stainless steel grade AISI 201 has a high resistance to corrosion and does not concede on this indicator such popular brands of stainless steel like AISI 321, AISI 304, when used in organic, acid and other moderately corrosive environments. Furthermore, the pipe made of AISI 201 stainless steel has high strength and excellent deformed. AISI 201 grade tubes - an excellent substitute for the classic stainless steel pipe made of steel grade AISI 304, and their appearance on the market of stainless steel is connected with the instability of world prices for nickel.
Application of the stainless steel pipe round AISI 201:
 Scope of stainless steel pipe grade AISI 201 is virtually identical to the scope of the stainless steel tubes AISI 304. So, at the moment, pipe, stainless steel AISI 201 found their wide application in the manufacture of food equipment, decorative items, housewares, plumbing items, health equipment and machinery. AISI 201 stainless pipe can be used in the manufacture of goods for home, industrial piping, structures, residential kitchen designs in the food industry. It is also used for the manufacture of shells and tubes neutralization systems, recycling, collecting and exhaust emissions. It is recommended to use a pipe grade AISI 201 as a structural material for the manufacture of exhaust systems, as well as furnace and related equipment (exhaust ducts, chimneys, etc.) window and door frames, railings and handrails; decorative designs and pipes; bins, trash cans and containers for waste, etc. Global consumption of pipe of stainless steel AISI 201 is growing every year, which is easily explained by their attractive price and wide range of applications. Using pipes of stainless steel AISI 201 allows the average 30-60% lower costs compared with the costs that arise when using a stainless steel pipe of AISI 304 grade.
Frequently Asked Questions about Stainless steel pipe AISI 201
✅ What is the standard length of AISI 201 stainless round pipe?
The standard length of one pipe is 6000 millimeters (six meters). If necessary, for example for transportation, the pipe can be cut into several parts.
✅ What is the difference between AISI 201 stainless steel round pipe and AISI 304 grade pipe?
AISI 201 stainless steel pipe differs from AISI 304 pipe chemical composition. This affects the scope of its application and accordingly the cost. Pipe stainless 201 is cheaper than the pipe brand AISI 304. Visually, the pipes of these two brands do not differ from each other.
✅ What are the reasons for the appearance of rust on the products from the stainless steel round pipe AISI 201?
Rust on stainless steel products / stainless steel pipes raises quite a few questions:
➖ is this pipe really stainless steel?
➖ if it is a stainless steel pipe, why did it start to rust?
➖ where does the rust on the surface of the product come from?
AISI 201 stainless steel pipes are resistant to corrosion because they contain chromium. When this element is present in the pipe in sufficient quantity and is exposed to the oxidative effects of acids, alkalis, water, air and other media, it forms a very thin (130 angstroms) impermeable layer of chromium oxide CrO, which prevents corrosion and makes the steel stainless. Chromium must be evenly distributed throughout the steel structure in order for it to become "stainless steel". Corrosion (rust) forms on the surface of stainless steel products when there is not enough alloyed chromium to create and maintain the required oxide layer.
Almost all cases, which result in the appearance of rust on the surface of products made of stainless round pipes AISI 201, are primarily due to damage to the protective layer of chromium oxide on the surface of the product.
In the manufacture of products from stainless pipes, damage to the protective layer is associated with thermal and mechanical stress such as welding and / or grinding. Chromium oxidizes very slowly. Therefore, new products are especially "sensitive" to adverse factors and require more careful maintenance.
Another condition under which rust can occur on the surface of stainless steel is contact with conventional carbon steel or low alloy steel. The operation of products from a stainless pipe should provide for the absence of its contact with ordinary steel. Do not carry out repairs in rooms where stainless steel products are installed or stored. During construction work, metal dust from cutting reinforcement or other steel structures falls on the stainless surface and sticks to it, which leads to point sources of corrosion (rust), which can only be removed from the product with the help of a fine abrasive specially designed for stainless steel.
Damage to the upper protective layer is possible during operation.
The quality of tap water is very important for maintaining the properties of a stainless pipe. It is recommended to wash products and wipe them dry immediately after use, avoiding the drying of dirt and food debris. Keep in mind that tap water contains a certain amount of metal particles, so if the water dries freely, a yellowish coating may appear on the stainless surface, which can be removed with detergents. Such plaque can even occur on earthenware products.
The enemy of the oxide film on stainless pipes is fluorine, chlorine, bromine, iodine. Therefore, it is necessary to install water filters when the content of these elements is exceeded. That is why, when cleaning stainless surfaces, you cannot use chlorine-containing substances, for example, whiteness. For the same reason, more thorough care is required for products that come into contact with sea or mineral water. Caring for products consists in cleaning with the use of non-aggressive and non-abrasive detergents. After finishing cleaning, the product should be rinsed and wiped dry. For washing and cleaning products, it is better to use products specifically designed for stainless steel. It is unacceptable to use cleaners and disinfectants containing chlorine, solid abrasive substances, acids and soda.
✅ What should you pay attention to when buying a stainless steel round pipe AISI 201?
➖ Minimum order for stainless steel round pipe AISI 201 with outer diameter 6 - 15 mm - 6 (six) running meters and multiples of six meters. On a stainless steel round pipe AISI 201 with an outer diameter of 16 - 129 mm - 3 (three) linear meters and a multiple of three meters.
➖ The minimum amount of the entire order must be at least 1000 UAH.
➖ A pipe of the same diameter can have different wall thicknesses. This affects both the cost per meter of running pipe and the strength of your future structure. The thicker the pipe wall, the greater its weight and price.
➖ If you buy three (3) meters of pipe of the same diameter, then the cost of one cross-cut is added to its cost, since the length of stainless pipes = six meters.
✅ What is the outer diameter and thickness of the stainless steel round AISI 201 pipe?
AISI 201 stainless round pipe with the following outer diameter and wall thickness in millimeters:
➖ ∅ 6 ; wall ➖ 1 ;
➖ ∅ 8 ; wall ➖ 1 ;
➖ ∅ 10 ; wall ➖ 0,8 ; ➖ 1 ; ➖ 1,5 ;
➖ ∅ 12 ; wall ➖ 1 ; ➖ 1,2 ; ➖ 1,5 ; ➖ 2 ;
➖ ∅ 14 ; wall ➖ 1 ; ➖ 1,5 ; ➖ 2 ;
➖ ∅ 15 ; wall ➖ 1,5 ;
➖ ∅ 16 ; wall ➖ 1 ; ➖ 1,2 ; ➖ 1,5 ; ➖ 2 ;
➖ ∅ 18 ; wall ➖ 1,5 ;
➖ ∅ 19 ; wall ➖ 1,5 ;
➖ ∅ 20 ; wall ➖ 1 ; ➖ 1,2 ; ➖ 1,5 ; ➖ 2 ;
➖ ∅ 21,3 ; wall ➖ 3 ;
➖ ∅ 22 ; wall ➖ 1,5 ;
➖ ∅ 25 ; wall ➖ 1 ; ➖ 1,2 ; ➖ 1,5 ; ➖ 2 ; ➖ 3 ;
➖ ∅ 26,9 ; wall ➖ 3 ;
➖ ∅ 28 ; wall ➖ 1,5 ;
➖ ∅ 30 ; wall ➖ 1,5 ; ➖ 2 ;
➖ ∅ 32 ; wall ➖ 1,2 ; ➖ 1,5 ; ➖ 2 ; ➖ 3 ;
➖ ∅ 38 ; wall ➖ 1,2 ; ➖ 1,5 ; ➖ 2 ;
➖ ∅ 40 ; wall ➖ 1,5 ; ➖ 2 ;
➖ ∅ 42,4 ; wall ➖ 1,2 ; ➖ 1,5 ; ➖ 2 ; ➖ 3 ;
➖ ∅ 45 ; wall ➖ 1,5 ;
➖ ∅ 48,3 ; wall ➖ 1,5 ; ➖ 3 ;
➖ ∅ 50,8 ; wall ➖ 1,2 ; ➖ 1,5 ; ➖ 2 ;
➖ ∅ 54 ; wall ➖ 1,5 ;
➖ ∅ 57 ; wall ➖ 1,5 ;
➖ ∅ 60,3 ; wall ➖ 1,5 ; ➖ 2 ; ➖ 3 ;
➖ ∅ 70 ; wall ➖ 1,5 ; ➖ 2 ;
➖ ∅ 76,1 ; wall ➖ 1,5 ; ➖ 2 ;
➖ ∅ 80 ; wall ➖ 1,5 ; ➖ 2 ;
➖ ∅ 84 ; wall ➖ 1,5 ;
➖ ∅ 85 ; wall ➖ 2 ;
➖ ∅ 88,9 ; wall ➖ 1,5 ; ➖ 2 ;
➖ ∅ 101,6 ; wall ➖ 2 ;
➖ ∅ 108 ; wall ➖ 2 ;
➖ ∅ 114,3 ; wall ➖ 2 ;
➖ ∅ 129 ; wall ➖ 2 ;
Copyright MAXXmarketing GmbH
JoomShopping Download & Support