STAINLESS STEEL PIPES
Stainless steel pipe
- a hollow product made of stainless steel. It has a certain length, constant cross section and wall thickness.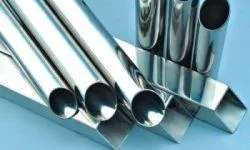 If you decide to start manufacturing stainless steel pipe products or just buy a stainless steel pipe for personal use - this site is just what you need. The company Stainless Steel will delight you with the richness of choosing a stainless pipe in the city of Kiev.
 Before you buy a stainless steel pipe and carry out any further actions with it, you should know some details of the selection and further operation of the stainless steel pipe product.
 Remember one important rule: not all stainless steel pipe is the same. Stainless steel pipe is different. In operation, the stainless pipe remains stainless under certain conditions. If these conditions are not met, the corrosion process may begin. Therefore, it is very important to choose a steel grade. Our company supplies stainless steel pipes in two steel grades: AISI 304 (food grade) and AISI 201 (technical grade). AISI 304 stainless steel pipe has a high degree of corrosion resistance. AISI 201 pipes have a much lower degree.
In our warehouse, the pipe is classified into several types:
➖ steel grade, as mentioned above: AISI 201 and AISI 304
➖ in cross-sectional shape:
 ❶ stainless round pipe ;
 ❷ stainless profile pipe, which in turn is divided into several subtypes: square, rectangular, flat oval;
 The entire stainless steel pipe that is in our warehouse has a surface roughness of 600 GRIT, which in clear language means mirror, polished, glossy.
 By the manufacturing method, the pipe supplied by us to the Ukrainian market is welded. TIG welding method (Tungset Inert Gas). This method is used more than others for the production of high-quality welded pipes. The source of the heat generator for melting the edges is an arc that forms between the tungsten electrode and the pipe. The shielding gas directed to the welding torch envelops the melting zone from the outer surface of the stainless pipe and at the same time, but in a different way, flows inside the stainless pipe to protect the melting zone and from the inside, holding it with a plug. In the TIG welding method, due to the effect of heat only on the outer surface of the stainless pipe, the melting zone is inevitably surrounded by a large zone of thermal irritation, as a result of which the seam is wider. But for the same reason, the TIG seam is more durable and easier to remove. The speed of TIG welding is low and, therefore, the price of a stainless pipe will be higher than when using other types of welding. The seam obtained by the TIG method is dense, uniform, without voids and shells. The weld coefficient of such a pipe = 1 (the strength of the weld corresponds to the strength of the main material of the pipe).
Stainless pipe application:
 The scope of stainless pipes with this welding method is quite wide: this is decor, structures, transport, food industry, chemical, petrochemical, gas, energy, paper industries, heat exchangers, evaporators, desalination plants, pharmaceutical industry and many other areas.
What are the advantages and disadvantages of using stainless steel pipes ?
✅ Benefits
➕ Strength
 Unlike this type of product made of different metals (aluminum, copper, brass, ferrous metal, other metal alloys) such as round aluminum pipe, aluminum profile pipe (aluminum square pipe or aluminum rectangular pipe), aluminum profile or from copper pipes (pipe copper) - a stainless steel (stainless steel pipe) is a much durable material, which already makes a stainless steel stand out when installing different types of products, structures, water supply and heating systems.
➕ Durability
 Just like copper pipes, a stainless pipe can stand for centuries and do not require replacement on the walls of stainless steel pipes; there are no rust outgrowths which, like a sponge, absorb alkali, which causes blockages in ferrous metal pipes.
➕ Do not oxidize
 Stainless steel pipes are not subject to corrosion when the stainless steel grade is selected correctly, they are not oxidized, and therefore they do not require additional attention in the form of painting or varnishing because the product will look like, any construction or stainless steel pipe will always be perfect - as if new. Acid-resistant stainless steel pipes (made of acid-resistant steel) are not afraid of acids and various aggressive chemical influences.
➕ Installation
 The installation of various structures and pipelines with stainless steel pipes is slightly inferior to copper and aluminum pipes. The pipe is copper, the pipe is aluminum - they can be soldered, but this installation method is not the only one. A stainless steel pipe needs to be welded with further processing of welds.
➕ Has a low expansion ratio
 Very low expansion coefficient - an impeccable advantage of stainless steel pipes. The round aluminum pipe, the aluminum profile pipe or the aluminum profile, as in the copper pipe, the expansion coefficient is very high. Therefore, a stainless pipe can be safely mounted in long pipelines or any other structures without fear for the fact that when expanded they will lead and distort because of heating.
➕ Thermal conductivity
 The thermal conductivity of stainless steel pipes is inferior to copper and aluminum pipes, but still it is metal that is quite suitable for use as a material, for example, for the manufacture of heat exchangers. And thanks to properties such as heat resistance, refractoriness and strength - stainless steel pipe is widely used in high-temperature furnaces.
➕ Heat resistance
 The melting temperature of stainless steel (stainless pipe) is very high: about 1800 ° C and therefore stainless steel pipes can tie boiler rooms of any power into flesh to an industrial scale. And the strength of stainless pipes is in no way inferior to a black steel pipeline. Moreover, stainless steel pipes are often used for the manufacture of burners in high temperature combustion chambers.
✅ What are the disadvantages of stainless steel pipes ?
➖ There are almost no special flaws in a stainless pipe. A stainless pipe has more weight than an aluminum pipe. The cost, price of stainless steel pipes is cheaper than the price of copper pipes and slightly more expensive than steel and aluminum pipes of comparable outer diameter, cross section and wall thickness.
The choice is yours !
Pipes manufactured to ASTM A554.
BUY STAINLESS STEEL PIPE !
Copyright MAXXmarketing GmbH
JoomShopping Download & Support