ROUND PIPES
Stainless steel round pipe
- Is a stainless steel cylindrical part with a length greater than the cross section. This type of stainless metal is different in diameter, length and wall thickness.
A round stainless pipe, as a rule, is made from austenitic complex alloyed grades of chromium-nickel steels, and has the following properties: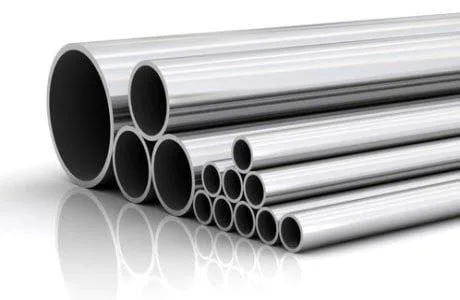 ➖ unsurpassed corrosion resistance, providing the ability to operate pipes with aggressive media;
➖ high viscosity and ductility;
➖ counteraction to mechanical influences and vibrations;
➖ wide range of working temperatures;
➖ long enough service life.
The surface of stainless steel round pipes
 Modern stainless pipes are available with such a coating on the outer surface:
➖ mirrored;
➖ polished;
➖ polished;
➖ matte;
 These surface types provide a high aesthetic appearance to these first-class products. Today, several methods of processing the external surfaces of round stainless pipes are used in production, as a result of which the possibilities of choice are expanded. There are three main types of surface - matte, polished or mirror (polished), which differ in consumer properties and price characteristics. Stainless steel pipes of small diameter are an ideal material for the implementation of various design decisions, the production of plumbing and accessories for bathrooms.
A stainless pipe with a circular cross section is welded and seamless.
The role of blanks is sheet metal or grade.
 In addition, pipe metal products are subdivided according to operational properties into pipes for general and special purposes. The marking of a round stainless pipe corresponds to the marking of the steel from which the product is made, that is, the first digit indicates the carbon composition in hundredths of a percent, followed by the lettering of the alloying components with numbers indicating the percentage composition in tenths. For example, AISI 304 stainless steel pipe incorporates 0.08% carbon, 18% chromium and 10% nickel.
MECHANICAL TEST OF WELDED SS PIPE

| | | | |
| --- | --- | --- | --- |
| SS Grade | Tensile Strength N/mm2 (min) | Yield Strenght N/mm2 (min) | Hardness (max) HV/HB |
| 304 | 520 | 210 | 200/190 |
| 201 | 520 | 210 | 253/240 |
* 1 Mpa = 1 N/mm2 = 145 psi
* HV - The hardness on the Vickers scale
* HB - The hardness on the Brinell scale
Pipe stainless steel round presented at our warehouse in two stainless steel twilight :
➖ AISI 201 stainless pipe
➖ AISI 304 stainless pipe
➖ surface we offer n / w round tubes = 600 grit (mirror polished)
➖ seam: tig (weld factor = 1)
➖ length of a stainless steel tube = 6 meters)
➖ outer diameter range of pipes from round stainless 6 mm - 129 mm
➖ depending on the diameter of the n / f = pipe wall thickness of 1 mm to 3 mm
Buy stainless steel pipe round !
Copyright MAXXmarketing GmbH
JoomShopping Download & Support